Restaurant Hood Cleaning in Hartford, CT
Many cases of accidental fires happen in eating and dining establishments with grease on the hood kitchen as one of the most common culprits. The oil that is trapped in the exhaust hood can create a spark when heated. So, fire accidents might occur anytime the kitchen equipment is being used.
Kitchen Hood of New England is a professional restaurant cleaning company that is equipped with restaurant hood cleaning tools to completely eliminate grease accumulation.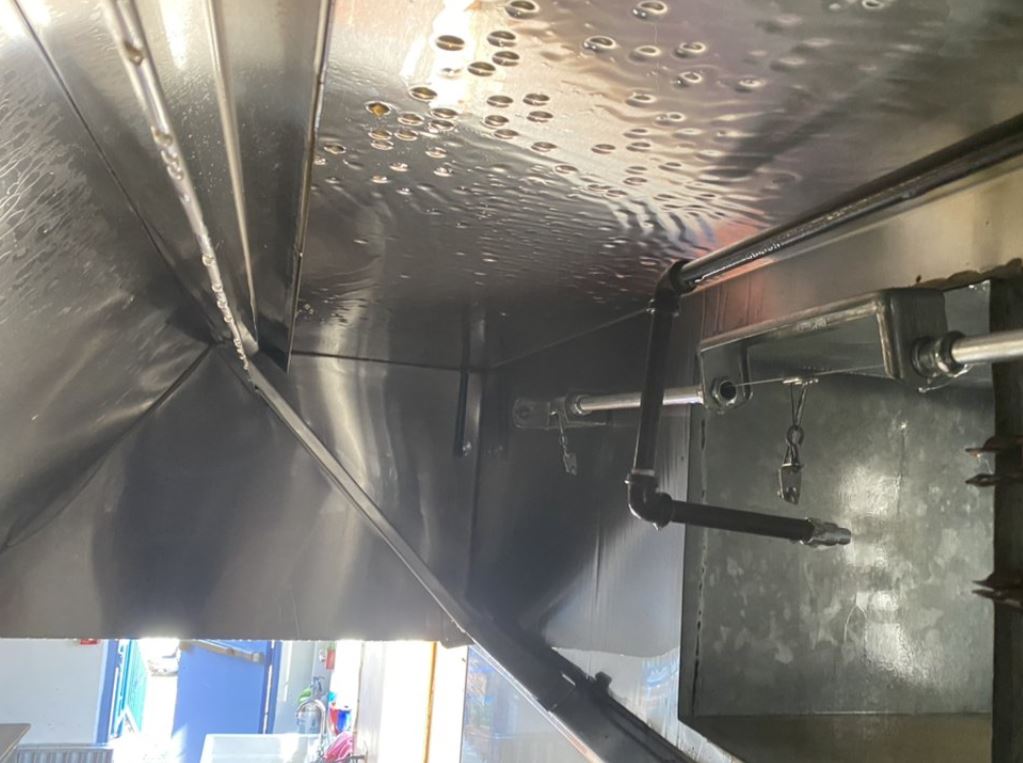 Get Your Estimate
Just give us a couple of important details and we will provide a free project estimate. Give us a call now!
Preventing Hartford Fire Explosions
Hundreds and thousands of fire explosion cases in the United States happen in food establishments. The problem is the rising number of accidental fires frequently results from poor or incorrect exhaust hood maintenance. Prevent being on the list of preventable catastrophes. Make sure to hire an accredited and well-trained restaurant hood cleaning company in Hartford, CT.
If you are concerned about the safety and protection of your employees and customers, hiring our exhaust hood cleaning services is the best choice. As a restaurant hood cleaning company, we have a long-standing reputation for superb kitchen and exhaust system cleaning that is sure to satisfy your needs.
Kitchen Hood of New England has hood specialists who will crack up the protection and filtration system of your kitchen exhaust hood. Our crew will help remove any potentially-harmful contaminants or matter that can ignite a fire. 
Exhaust Hood Cleaning For Greasy Exhaust Hood Range And Filter
Since we have been providing Hartford and the surrounding areas with the best restaurant exhaust cleaning, we know how to immediately recognize issues and potential challenges. And because our expert hood cleaning team has extensive experience, we understand how crucial it is to perform correct commercial hood cleaning. 
So, what is included in our exhaust hood cleaning service?
Scrape cleaning of the exhaust hood from top to bottom

Application of food-safe cleaning solution using a sprayer, pressure washer, or chemical foam

Removal of accumulated grease from the commercial kitchen exhaust hood 

Washing the exhaust hood with high-powered, hot water pressure

Taking  of photographs for documentation and evaluation
As you know, the exhaust system in a kitchen area has the primary function of capturing all the nasty airborne food debris, grease, and other residues. The oil can quickly develop in the exhaust system and trigger a fire threat unless cleaned regularly. 
Ensure that your commercial kitchen is ready and safe to prepare amazing food all the time. Schedule your exhaust hood cleaning with Kitchen Hood of New England today. Contact us at 860-791-4474.
What Can Happen If Your Exhaust Hood Does Not Get Regular Cleaning?
Just like other commercial kitchen equipment and systems, when the exhaust hood does not receive proper and adequate maintenance, it will not be able to filter air and remove heat, smoke, and steam from the kitchen. The exhaust system might get damaged and end up needing more pricey repair or part replacement.
Other costly problems you might encounter refusing to hire a professional cleaning company could result to:
The exhaust hood splitting up and breaking

Water leak from the exhaust hood and leakage on the rooftop ventilation pipes  

Hardened grease and residue in the hood filter

Broken bearings that cause additional damage to the exhaust system
When it comes to restaurant hood cleaning in Hartford, Kitchen Hood of New England is definitely a top choice. We can aid in preserving the quality of your industrial kitchen appliance and equipment. 
Our experienced specialists will certainly offer you a complimentary assessment to guarantee the mechanical health and wellness of your whole exhaust system. Not to mention all our experts and personnel conforms to the criteria set by the National Fire Protection Association.
Because not all restaurant managers or owners hire a specialist hood cleaning service, we have seen some truly oily hoods. Unfortunately, many of them hesitate to hire our restaurant cleaning services until the exhaust system starts making loud noises, begins to leak, or needs immediate maintenance.
So, ask yourself these questions:

Just how is your hoods' air movement?

Is your kitchen area typically packed with smoke?

Are temperature levels usually high in your kitchen?
You need regular exhaust hood cleaning. Call Kitchen Hood of New England today!
How To Schedule Restaurant Hood Cleaning With Us?
Please contact Kitchen Hood of New England by calling our number 860-791-4474. Schedule an appointment or simply ensure that we have the right cleaning solutions needed for your particular request.